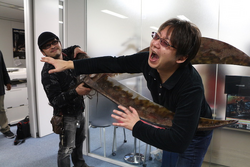 Hifumi Kono (河野 一二三) is the current CEO of Nude Maker and ex-member of Human Entertainment who directed the first titles in the Clock Tower games, Clock Tower: The First Fear and Clock Tower before its disbandment. Nude Maker is composed mostly of ex-Human Entertainment members, including Kono himself.
In January 2000, Human Corporation was declared bankrupt for failing to negotiate for a restructuring deal over outstanding debt.[1] Years later after the shut down of Human Entertainment, Hifumi expressed his interest in creating a sequel or continuing the Clock Tower series when he was reached out by fans, however, as the series was sold to Sunsoft, Hifumi simply had no right to create a new Clock Tower game as the franchise has been to them and the last game in the series, Clock Tower 3 which had been developed by Capcom and released in 2002. He also wasn't involved with Clock Tower II: The Struggle Within.
Nude Maker worked on and produced other games such as:
Mikagura Shoujo Tanteidan
Shin Mikagura Shoujo Tanteidan
Steel Battalion
Steel Battalion: Line of Contact
AV King
Infinite Space (with Platinum Games)
Terror of the Stratus (with Konami)
NightCry
Hifumi revealed that he started thinking about creating a sequel around 2009, and he finally decided to go with the indie games route as he was advised, considering high costs and that indie route requires low costs.[2]
During the TGS 2014 Event, Hifumi officially revealed his upcoming project, entitled "Project Scissors" which would be a spiritual sequel to the Clock Tower series. The title was later revealed to be NightCry.
References
Community content is available under
CC-BY-SA
unless otherwise noted.