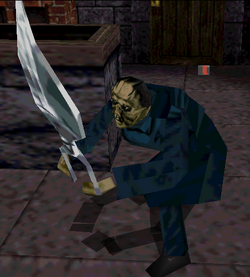 A stalker is a foe who chases the main character throughout the whole game, or throughout certain levels.
Bobby Barrows - For the most part of the game Bobby chases Jennifer throughout the Barrows Mansion with his giant pair of scissors.
Dan Barrows - For a small amount of time Dan pursues Jennifer out of his cave.
Mary Barrows - The mother of Bobby and Dan. Sometimes tries to stab Jennifer with a knife.
The stalkers in Clock Tower 3 are also known as subordinates (魔のモノの配下 Ma-no-mono-no-haika) -- malicious spirits brought back from execution to hunt and kill the Rooders for their hearts.